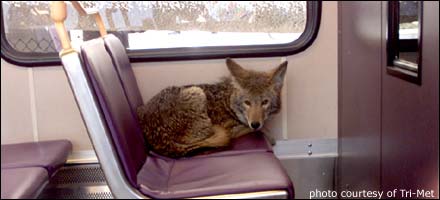 'Wiley' coyote sneaks onto MAX train
The Oregonian
February 14, 2002
PORTLAND - Tri-Met may have a new spokes-animal for MAX.
Yesterday at around 11:30 a.m. a coyote boarded MAX at the Airport Transit Station. Port of Portland officials and Animal Control officials caught the animal and quickly released it.
Coyotes are timid creatures and are more likely to be afraid of people, than people are of them.
In a bulletin, Tri Met stated: "It's not known if the coyote had a valid fare!"